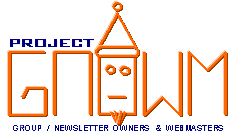 G.N.O.W.M. is an acronym for Group Owners, Newsletter editors, bloggers and web masters.
Project GNOWM aims to bring together UAE online forums owners/moderators, bloggers, webmasters and newsletter/ezine editors on one platform.
The objective is to work together and facilitate quck sharing of information and news dispersion.
Are you a UAE blogger, or running your own website or forum in the UAE? Do get in touch with us – email advaitin@gmail.com or leave a comment with your contact details, we'll get in touch.
Feel free to leave a comment highlighting your views and opinions.